Michigan's Preferred Sub-Contractor for These Services and More!
---
You may recognize our name for being the lowest bidder on many of the services your company sub-contracts, but we're known for having the most experienced and dependable crews that deliver a high-quality product.
Our Services:
Materials designed and installed to safely absorb expansion, vibration, and contraction of construction materials generally caused by earth settlement, loading, or heat expansion. They may also hold parts together.
Stabilizing and repairing damaged concrete and other structures, by installing carbon fiber cloth with an epoxy binder. The process restores the structural and load bearing capacity of the object being reinforced. Can be applied to metal, wood, concrete, or plastic. Has a high strength to weight ratio and quick repair time. Commonly installed on concrete beams bridges, columns, poured in place and precast concrete for maximizing crack control and restoring structural integrity
A form of surface preparation by means of power washing, abrasive blasting, shotblasting, or scarifying to remove paint, epoxy, flood coating, graffiti, or other materials.
Removing and replacing damaged and deteriorated concrete.
Acrylic waterproof/ protective coating for above grade concrete, masonry, and cement based products.
Bridge, foundation, wall, road, or other structure repair performed due to an accident, weather, act of God, or unplanned event.
Injecting epoxy resin into a crack in concrete for restoring structural strength and/ or waterproofing purposes.
Protective liners specifically formulated for municipal wastewater environments. These chemical-resistant barriers can be used on concrete, masonry, brick, and steel substrates. Coatings are applied to infrastructure throughout the wastewater industry and on tanks that hold extremely corrosive material. Generally used as a stand-alone lining. Applications range from manholes and lift stations within the collection systems to tankage, structural steel, digesters, clarifiers, and secondary containment at treatment plants.
A fast and cost effective method of preventative maintenance that includes removing the top layer of concrete from a bridge or road surface, then applying a polyurethane based epoxy and then aggregate. The epoxy enters and seals cracks in the bridge deck and bonds aggregate in place. The aggregate increases vehicle traction and reduces stopping time. Epoxy overlays have been proven to extend the service life of infrastructure and protect investment.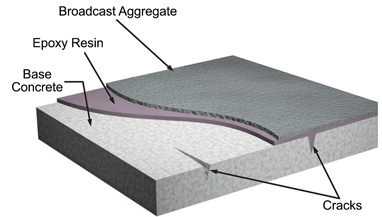 High Friction Surface Treatment (HFST) enhances the ability of a road surface to provide pavement friction to vehicles in critical braking or cornering maneuvers.
HFST consist of a thin layer of durable, high friction aggregate (bauxite) which is held in place with epoxy. This system has a long-lasting skid resistance, that is extremely rough, hard, durable, and capable of withstanding everyday roadway demands, such as heavy braking and even snowplowing.
High friction surface treatments dramatically and immediately reduce crashes, injuries, and fatalities. The National Cooperative Highway Research Program (NCHRP) Report 617 indicates a reduction of 20 percent for all intersection crashes.
Reduce hydroplaning on wet surfaces
Reduce black ice
HFST are often installed on horizontal curves, intersections, bridge decks, and on-ramps.
The process of flooding of an entire bridge deck with a material, such as epoxy or polyurethane, to seal or bridge cracks to prevent moisture intrusion. The flood coat method pours material on the deck and then squeegees or brooms the topcoat material over the entire surface, completely covering the deck. The topcoat is generally sand or another coarse aggregate. Flood coating is typically used with thin epoxy overlays and penetrating sealers such as healer sealers.
Cement or epoxy based liner systems that provide biogenic corrosion resistance, create a barrier to infiltration, and restore structural integrity. Some products can be installed in a damp conditions.
Removing and replacing damaged and deteriorated concrete.
Method commonly used for removal of a specified depth of concrete from large areas of horizontal or vertical surfaces.
Sealing or repairing cracks by injecting a polymer or other material for structural repair and/ or waterproofing.
Installation of polyurethane crack injection and waterproof coatings on concrete or masonry foundations below grade, under clearance of elevators, hydraulic presses, and manufacturing equipment.
Preventative maintenance of buildings, roads, bridges, water treatment facilities, parking garages, and other infrastructure by means of healer sealer, concrete texture coating, epoxy overlay, High Friction surface treatment, concrete surface coating, crack and concrete repairs. This preventative maintenance can greatly increase the life expectancy of the structure.
Method of cutting or abrading a surface with a stream of sand ejected from a nozzle at high speed by compressed air.
Milling equipment used for removal of concrete or brittle coatings by fracturing and pulverizing with rotary impact cutters held at a right angle to the surface.
Scratching, cutting, or chipping a substrate to clean and texture the surface.
Ground water seeping into storm and drain systems, which increases volume of water treated at plants and also erodes surrounding soil causing sinkholes.
Method in which steel shot is centrifugally propelled at high velocity onto a surface; the process is confined in an enclosed blast chamber which recovers and separates dust and reusable shot.
Combination of methods used to remove deteriorated or contaminated concrete and roughen and clean a substrate to enhance bond of a repair material or protective coating.
See Epoxy crack injection
Fluid-applied air barriers, sheet membranes, and vapor-permeable formulations that keep air and moisture from entering the building. These barriers allow moisture to exit the building if they are present.
Typically sprayed on concrete or masonry surfaces to protect against water, salts, freeze-thaw, and deterioration. If properly installed, it will reduce cracking, pitting, spalling, efflorescence, rebar corrosion, molds, and algae growth.
Fluid-Applied, Sheet-Applied , and Cementitious products applied above or below grade. They are impervious to water in either liquid or vapor state.