MDOT 's Best Choice For Shotblasting
Shotblasting for MDOT Done Right With Smith's Waterproofing!
Successful completion of bridge, highway and road repairs requires the expertise of a construction, restoration and waterproofing company with a long track-record working on such high-profile and large-scale projects. From preventative maintenance to emergency structural repairs, Smith's Waterproofing has spearheaded a wide range of projects for the Departments of Transportation in Michigan, Ohio, and Indiana.
When emergency repairs to a bridge, highway or road are needed, Smith's Waterproofing is prepared to start work immediately. Our fleet of vehicles, workers and equipment is ready to be deployed almost instantaneously at any point throughout the week. Moreover, our restoration teams have experience dealing with critical emergency repairs where timeliness and skill are essential. From an emergency concrete beam repair on an overpass damaged from a high-load hit to expedited service on a deteriorating concrete bridge, Smith's Waterproofing has handled a wide range of time-critical repairs successfully and with minimal impact to car and pedestrian traffic.
We deploy our fleet of vehicles, equipment, and workers to jobs that are across the US every day of the week. We've worked on over 1.000 bridges across Michigan and the surrounding Midwest states for MDOT, counties and various municipalities.
Shotblasting Services In Action For MDOT
Shotblasting is a method in which steel shot is centrifugally propelled at high velocity onto a surface; the process is confined in an enclosed blast chamber which recovers and separates dust and reusable shot.
Using Shotblasting For Clarkston Road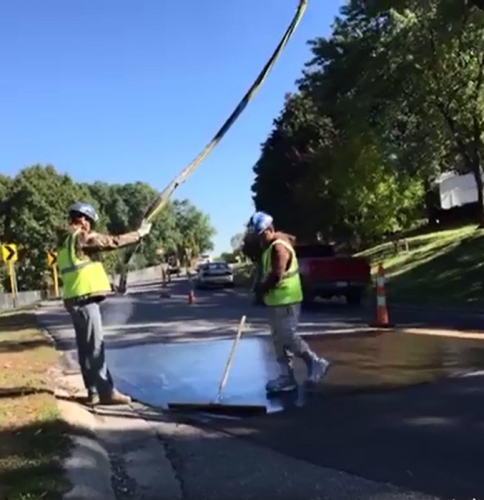 Oakland County Road Commission chose Smith's Waterproofing to install a high friction surface treatment on Clarkston Road. Work was performed on three specific corners, where multiple vehicular fatalities have occurred. Smith's Waterproofing was the prime contractor for the job and was allowed three weekends to complete the project. The project was completed in just one weekend through great planning and execution by the foremen and crews.
Over 53,150 square feet of high friction surface treatment was installed on Clarkston Road by Smith's Waterproofing. Five shotblasting machines were utilized for the surface prep to create a Concrete Surface Profile (CSP) 3 on the road surface, while two crews installed the high friction surface treatment. Smith's also provided traffic control and cleanup services for the project.
This project was completed two weekends ahead of schedule and under budget. This was another safe project completed with no near misses, accidents or injuries.
---
Scarifying Concrete
Scarifying is the act of scratching, cutting, or chipping a substrate to clean and texture the surface using scarifiers. A scarifier is milling equipment that's used for removal of concrete or brittle coatings by fracturing and pulverizing with rotary impact cutters held at a right angle to the surface.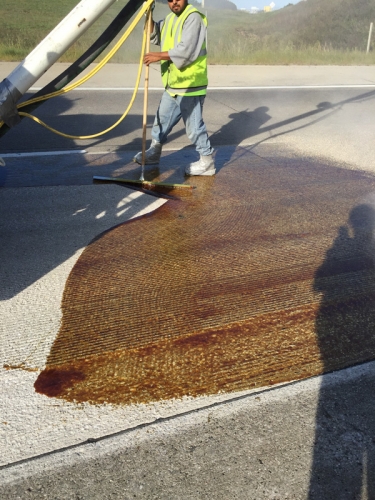 Using Scarification Before High Friction Surface Treatment:
The State of Michigan and MDOT awarded Smith's Waterproofing the project to install high friction surface treatment on multiple accident-prone locations on the I-94/US-131 interchange, as well as, Gun Lake Casino ramp, Business Loop 94 or US-131, and main line I-94 (near Battle Creek, MI). Each location was chosen due to a fatality, which may have been prevented with a high friction surface treatment and scarification.
US-131 and I-94 were partially shut down during peak travel season as a result of the project. To minimize the effects of construction and expedite the completion, Smith's crews worked around the clock to complete the installation of 72,000 square feet of high friction surface treatment. Twenty-four men were assigned to the day crew on the US-131 interchange project. This project was completed with a partial shutdown of the ramps and included shifting the lane closure. The US-131/I-94 portion of the project was completed 12 hours ahead of schedule.
Highlights
218,040 square feet of high friction surface treatment
Completed 28% under the engineer estimate
No accidents or injuries
Completed ahead of schedule
Milling & Sand Blasting Services For MDOT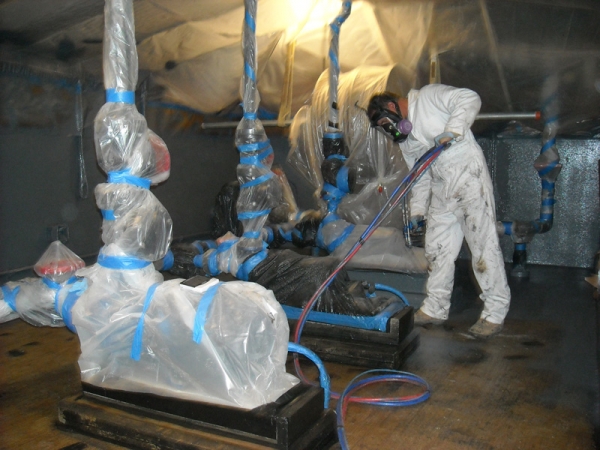 Milling - A method commonly used for removal of a specified depth of concrete from large areas of horizontal or vertical surfaces.
Sand Blasting - A method of cutting or abrading a surface with a stream of sand ejected from a nozzle at high speed by compressed air.
Sand Blasting & Milling in Dearborn, MI
This project began small with Smith's installing coatings for the primary and secondary containment for sodium hypochlorite at Dearborn CSO#8 (Combined Sewer Overflow). This required a protective coating of vinyl ester to be installed to resist the corrosion and acidity of the sodium hypochlorite, which has the ability to dissolve stainless steel. To prepare the surface, Smith's crews sandblasted and cleaned both tanks before applying the chemical resistant vinyl ester coating.
The roof of the caisson received a living roof which allows grass, bushes, and small plants to grow on top of the concrete roof. This particular living roof required a two-part membrane system, with soil layered between each membrane. Smith's was chosen to install the Firestone membrane system, which also included engineered soil and vegetation.
---
Smith's Waterproofing can help with all of your Shotblasting Needs for MDOT ! We service the Midwest US with our professional equipment, vehicles, and team. Contact us to learn more, and see how Smith's Waterproofing can help your next construction project go as smoothly as possible.