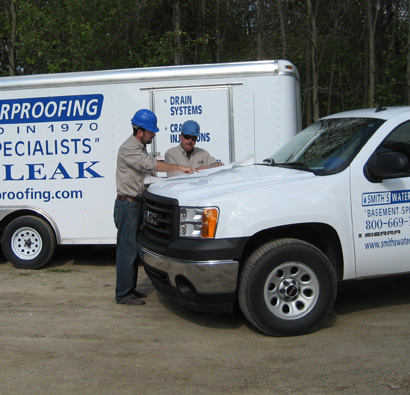 Established Michigan Commercial Contractor Serving Municipal, DOT and Other Industrial Markets
---
Established in 1970, Smith's Waterproofing, LLC originated as a commercial and residential waterproofing company.
Over the years, we began working for the Military, DOT and in mines. We have worked on over 1,000 bridges in Michigan and the surrounding states for MDOT, counties and municipalities. We deploy our fleet of vehicles and equipment to jobs across the US, every day of the week. Our workforce is scalable to handle any size job. From installing healer sealer on the Zilwaukee bridge (1,170,000 Square feet) to reinforcing underground mine structures, we have been performing structural concrete repairs on water treatment plants, bridges and industrial & manufacturing facilities. We provide all of the services related to Surface Preparation, Epoxy Overlay/HFST, Carbon Fiber Reinforcement/FRP Wrap, and Crack Injection.
---
Smith's Waterproofing Company Divisions
As we have grown, we found that it was necessary to branch out into two divisions to better serve our customers. Smith's Waterproofing has become two companies:
Smith's Waterproofing Commercial Division is dedicated to heavy civil, municipal, DOT, commercial & manufacturing projects. We have also worked with the Army Corp of Engineers, Air Force, Army, and the National Guard. Our crews have also worked in the southwest for Chevron Mines.
Smith's Waterproofing Residential Division is serving homeowners and businesses in Southwest Michigan, Ohio and Indiana.
General Certifications
Confined Space (MDEQ Course 632 & CEU .8)
Self-Contained Breathing Apparatus - SCBA - MDEQ 637
Mine Health and Safety Administration (MHSA 40 Hour Coal / Metal / Non-Metal Certified)
World of Concrete Master Certification in Concrete Repair
DOT Certifications: (MDOT Pre-qualifications)
J - Concrete
N7 - Waterproofing
N91A - Bridge Deck Repair
N91C - Concrete Structure Repair
N91E - Structural Crack Repair
Wayne County Airport Authority:
Small Business Enterprise
Memberships:
MITA (Michigan Infrastructure and Transportation Assoc.)
ICRI (International Concrete Repair Institute)
BHA (Basement Health Assoc.)
BBB (Better Business Bureau)
MBPA (Michigan Business and Professional Assoc.)
Certified Material Installer for:
---
Our Mission:
Smith's Waterproofing, LLC is dedicated to ensuring the longevity of our company through repeat and referral business achieved by customer satisfaction in all areas. We will strive to implement a long-term relationship with our customers, based on safety and quality. To help fulfill this mission, we will maintain the highest levels of professionalism, integrity, honesty, and fairness in our relationships with our suppliers, subcontractors, professional associates, and customers.
To Our Customers
Our goal is to provide exceptional services to our clients and exceed their expectations on every job. We get work done right the first time.
To Our Employees
We strive to create a safe culture and work environment for all of our employees. We know our employees have family and friends waiting for them to get home safely.
To the Community and Environment
We continually research to find better installation practices and the safest products that are best for our employees and the environment. We strive to protect the community, our employees and the environment
Interested in Working for a Fast Growing Commercial Contractor in Michigan?
We are hiring! CLICK HERE to see the type of people we are looking for.