DOT 's Leading Choice For Concrete Repair and Restoration Services!
Concrete Repair and Restoration Done Right With Smith's Waterproofing!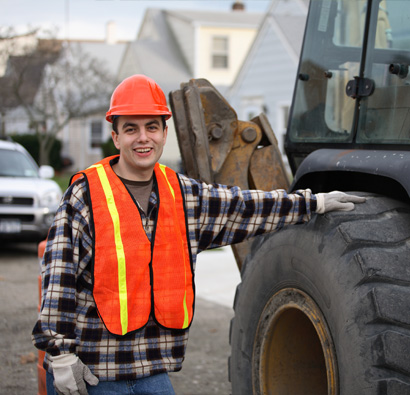 We have worked on over 1,000 bridges in Michigan and the surrounding states for MDOT, counties, and municipalities. We deploy our fleet of vehicles and equipment to jobs across the US, every day of the week.
Our long list of clients including commercial manufacturers, municipalities, Departments of Transportation, and the Army Corps of Engineers who can attest to the skill and expertise that the Smith's Waterproofing team brings to every job. With a large fleet of vehicles and technicians ready to deploy throughout the week, Smith's Waterproofing is ready to solve your concrete repair issues whenever you need us.
Whether concrete is deteriorating due to age or new concrete is displaying issues due to poor installation, our expert technicians understand the correct technique to utilize for a long-lasting repair. For example, Smith's Waterproofing performs crack injection repair on new caissons due to water leakage. Whatever the underlying issue, we are able to diagnose the problem and propose a safe, effective and expedient concrete repair solution.
Concrete Repair and Restoration Services For DOT
For this service we remove and replace damaged and deteriorated concrete. Check below to see our team in action replacing and storing concrete on one of our largest jobs yet!
Repairing The Concrete M-20 Over The Tittabawassee River:
Smith's Waterproofing utilized 3 crews to perform emergency repairs on M-20 over the Tittabawassee River. This project had an expedited schedule due to the condition of the bridge, which was deteriorating rapidly. Large amounts of concrete were missing, leaving re-bar exposed.
After concrete was patched, a water repellant coating was installed. Finally, the failing downspouts on the bridge were removed and replaced with Fiber Reinforced Polymer (FRP) downspouts. This was another project completed by Smith's Waterproofing on time, under budget, and without injury.
Installed structural steel beam stiffeners
Completed the project ahead of schedule and 10% under budget
Bike path under bridge was open for duration of project
News crews and public frequently visited the site for status updates
Structural Crack Repair & Epoxy Crack Injection Services
Injecting epoxy resin into a crack in concrete for restoring structural strength and/ or waterproofing purposes.
Berlin Township Waste Water Treatment Plant:
Smith's Waterproofing was chosen for extensive concrete repair at the Berlin Township Waste Water Treatment plant. The project included concrete structure repair and structural upgrades to the four aeration tanks, aerobic digester tank, distribution tank, and the three clarifier tanks.
Engineers had designed and upgraded the wall design to prevent waste water spills from occurring in emergency flood scenarios. This new design also changed the input of the influent pipe. All four aeration tanks had significant damage from the acidic and harsh nature of waste water. Each aeration tank was drained, and the failing concrete was saw cut and removed around the perimeter. New rebar was installed, forms were built, and the new concrete walls were poured and finished by Smith's crews. The aerobic digesters received similar repairs around the perimeter of each tank. Each tank also received structural epoxy injection to repair all structural cracks. Over 1,000 lineal feet of crack injection was performed.
Each aeration tank, aerobic digester, and distribution chamber had walls with weir plates that were removed and reinstalled with the repairs. This design required Smith's to be within 1/100th of an inch accuracy for the system to operate.
The clarifying tanks at the plant had similar damage to their concrete walls, however part of the tank was able to be saved. Smith's crews carefully saw cut and removed the damaged areas in the tank. New re-bar was installed and secured in the remaining walls of the tank, with high strength epoxy. Forms were set in place by Smith's crews and concrete was poured & finished.
---
Carbon Fiber Concrete Reinforcement Services For DOT
Stabilizing and repairing damaged concrete and other structures, by installing carbon fiber cloth with an epoxy binder. The process restores the structural and load bearing capacity of the object being reinforced. Can be applied to metal, wood, concrete, or plastic. Has a high strength to weight ratio and quick repair time. Commonly installed on concrete beams bridges, columns, poured in place and precast concrete for maximizing crack control and restoring structural integrity.
Using Carbon Fiber Concrete Reinforcement At The Food Processing Plant:
This project was part of a high efficiency production line upgrade at a food manufacturing plant in South East Michigan. The production line upgrade required the basement foundation walls and bearing walls to be strengthened with carbon fiber reinforced Kevlar.
Engineers determined that the high humidity created by the factory's operating conditions caused large amounts of water to build under the slab of the building. The water created hydrostatic pressure which caused the block walls throughout the building to bow and sheer slide off the foundation.
The solution was three-fold: To eliminate the water below the slab, Smith's added interior drain systems which included industrial sump pumps. Water was diverted to an exterior drain system, which eliminated hydrostatic pressure that was causing walls to bow. Two crews were dedicated to applying waterproof coatings on interior walls and epoxy coatings on the floors. These coating systems were installed to protect the concrete floor and masonry walls from further damage and diverted accumulated water to drain systems.
Masonry and tuck pointing repairs were made to various portions of block walls and concrete walls throughout the factory. After all repairs were made the walls were covered with a concrete texture coating to add a final layer of protection.
The factory remained in operation for the duration of the project. Maintaining strict food safety parameters was a crucial part of this project. Smith's installed a waterproof and dustproof barrier to protect the production line in service.
Highlights:
Factory remained open while all work was performed
Interior drain systems and industrial sump pumps installed
Carbon fiber structural reinforcement
---
Polyurethane Crack Injection Services
This process involves sealing or repairing cracks by injecting a polymer or other material for structural repair and/ or waterproofing. Check out our team in action below!
This project began small with Smith's installing coatings for the primary and secondary containment for sodium hypochlorite at Dearborn CSO#8 (Combined Sewer Overflow). This required a protective coating of vinyl ester to be installed to resist the corrosion and acidity of the sodium hypochlorite, which has the ability to dissolve stainless steel. To prepare the surface, Smith's crews sandblasted and cleaned both tanks before applying the chemical resistant vinyl ester coating.
Following the crack injection, Smith's installed an architectural expansion joint around the perimeter of the caisson. The expansion joint was installed between the top of the caisson and the roof or lid of the caisson. The lid is removable and the expansion joint protects the caisson from any movement of the lid.
Vinyl Ester coating protective coating of primary and secondary containment tanks
Crack injection and waterproofing of caisson and influent lines
Green/ living roof membrane installation
---
For the best Concrete Repair and Restoration services, there's only one name to trust - Smith's Waterproofing. We're trusted by DOT and pride ourselves on all of our top-quality work. If you need reliable work on your next Concrete Repair and Restoration project, contact us to learn more today!